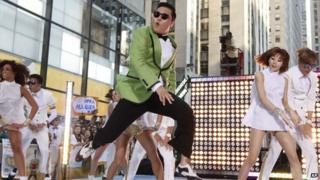 AP
Gangnam Style is the dance craze that's swept the world, but the ultra catchy song's missed out on the UK number one spot.
The track from South Korean singer Psy has galloped its way to number three in the charts.
The Script and will.i.am's Hall of Fame hold onto the top spot and Example's Say Nothing enters at two.
Gangnam Style is the most liked YouTube video ever with more than 260 million views.
Psy even taught American superstar Britney Spears his famous "horse dance" on chat show Ellen earlier this month.
Gangnam Style could still climb and become the UK's first ever K-pop (which stands for Korean pop) number one!