A top government politician has apologised publicly for having a row with police outside Downing Street.
Andrew Mitchell, whose job as Conservative Chief Whip means he's in charge of party discipline, has been accused of swearing and calling officers "plebs" when they wouldn't let him ride his bike through a main gate.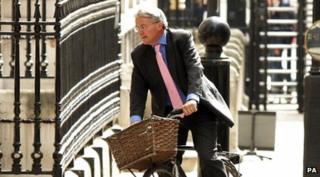 PA
He told journalists on Monday he was sorry for not showing the police enough respect but said he did not use the words he'd been quoted as saying.
The Prime Minister David Cameron has backed Mr Mitchell saying he was right to apologise.
Mr Mitchell said the incident last Wednesday had happened after a "long and extremely frustrating day", but insisted that wasn't an excuse for what happened.
He added that the officer involved had accepted his apology.
The Police Federation and Labour Party have both called for an inquiry into his behaviour.