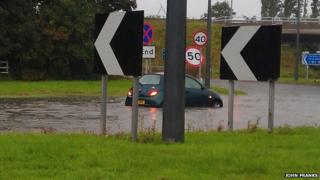 John Franks
Britain's being hit by more extreme weather with more than a month's rain forecast to fall in less than two days.
Sixty-five areas of England have been placed on flood alert as heavy winds and rain batter the UK.
Downpours and winds of up to 60mph are hitting the north of England and south of Scotland with weather warnings in place.
The Environment Agency issued 65 flood alerts across the UK and 10 weather warnings for south-west England.
We want to know what it's like where YOU live.
If you send us a comment, it may be published on the Newsround website, and some comments may be used in our TV bulletins. We'll use your first name and your home town to show that it's your comment; your personal details won't be used for anything else.
YOUR COMMENTS:
"There has been so much rain; our school drive is a river! It's crazy."
Emily, Huddersfield, England
"I hate this rain! At school our whole playground is flooded and we can't play outside. It is so boring, we hope it will go soon."
Renee, Merseyside, England
"My school has been closed due to heavy flooding. Hope it's closed tomorrow :)"
Bob bob, Newcastle, England
"Rain is the most boring weather ever. At least in the sun you can play out and in the snow you can make snowmen. Rain just makes you miserable."
Hannah, Rochdale, England
"The rain is not affecting me but the wind is! It's SO windy here!"
Ruby, Inverness, Scotland
"The recent rain has flooded our school, our playground has become a swimming pool and the rain is flooding some of the classrooms."
Zoe, Birmingham, England
"It has been raining constantly here and already two of my umbrellas have broken! On my way to school there are huge puddles and I've also got a cold!"
Stephanie, Birmingham, England
"In Blackburn it's raining and it is so annoying because I don't get to go out, it isn't fair! I hope it doesn't get worse!!!"
Zainab, Blackburn, England
"No it is not affecting me but a bit of sunshine would be nice!"
Josh, Stockport, England
"I live in London and the rain is so annoying. I hope it stops soon!"
Molly, London, England
"It has been constantly pouring it down with rain. Luckily there have been no flood warnings... yet!"
Sarah, Luton, England
"It is really rainy and very cold! Most of the school grounds are flooded. It feels like we are having winter early!"
Hannah, Warrington, England
"It's not really affecting me at the moment but it's causing traffic jams non-stop. It's causing delays for school because the weather is so bad."
Nia, Dorset, England
"I wish it would stop raining so I could play with my friends."
Reece, England
"Stuck at home, hungry and BORED because our school is closed."
Rebecca, Co. Durham, England
"The extreme weather has had a big effect on me. For the past two days I have had to stay indoors and it is very boring."
Hussain, Birmingham, England
"The weather here is just wet and windy. Just typical Scottish weather!
Annabelle, Dumfries, Scotland
"It's been raining non-stop. On my way to school I saw at least three overflown drains and when a car comes past we put our umbrellas down so we down get splashed!"
Maisie, Essex, England
"It's horrible, it's rained nearly non-stop from yesterday midday, I'm scared it's going to flood! At least I know that there is going to be enough water to drink!"
Ebony, Essex, England
"The weather is quite bad here, I hope we do not get a flood. Then we will have to swim to school!"
Alice, Derbyshire, England
"The bad weather is really getting me down, I love playing outside but it is always raining here in Northern Ireland."
Luca, Fermanagh, Northern Ireland
"The floods are massive at my nan's. It's up to my waist, it's untrue."
Ellie, Ellesmere Port, England
"The weather where I live isn't causing any problems. However, it has rained almost non-stop all day and you have to leap out of the way when a car comes by or else it will splash you!"
Sophie, Derby, England
"It's terrible here. The rain is really bad."
Anthony, Accrington, England
"I've been on a school trip and the weather was so bad it made us all ill. We had to go on a trapeze in the weather and it was cold and raining."
Sana, London, England
"In Aldershot we have had some rain but I'm concerned because I do not know if the weather is going to get worse!!"
Charlotte, Aldershot, England
As well as comments you can send us your extreme weather pictures - and who knows, maybe we'll find Britain's biggest puddle!
Send your photos to newsroundpix@bbc.co.uk
•DON'T put yourself or anyone else in danger.
•DON'T break any laws.
•DO get permission from your parent, guardian or school before sending us your pictures.
•DO include some background info about the photo - your first name, age and where you live.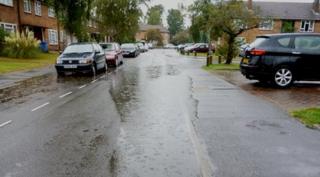 Erica Dudeney