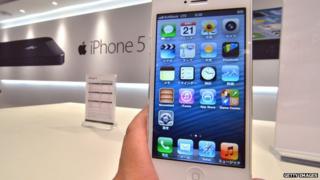 Getty Images
Apple has been named the UK's coolest brand name according to a new survey.
The iPod makers beat internet site YouTube and James Bond car-maker Aston Martin to the top spot.
The luxury sports car company had been top of the CoolBrands' list for six of the last seven years.
Thousands of people voted after CoolBrands' panel of 39 judges, including music acts Rizzle Kicks and Plan B, selected a shortlist.
Twitter, Google and the BBC iPlayer, made it high up the list but Facebook wasn't even in the top 20.
The 2012/13 CoolBrands top 20 is:
1. Apple
2. YouTube
3. Aston Martin
4. Twitter
5. Google
6. BBC iPlayer
7. Glastonbury
8. Virgin Atlantic
9. Bang & Olufsen
10. Liberty
11. Sony
12. Bose
13. Haagen-Dazs
14. Selfridges
15. Ben & Jerry's
16. Mercedes-Benz
17. Vogue
18. Skype
19. Nike
20. Nikon