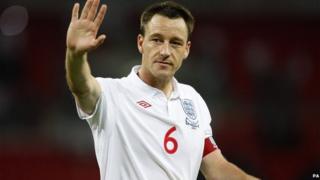 PA
England boss Roy Hodgson says he's disappointed John Terry has decided to retire from international football.
Terry announced his decision on Sunday saying the FA had made it impossible for him to continue playing for England.
An FA hearing is into Terry's clash with QPR's Anton Ferdinand in October 2011 is currently taking place.
Terry was found not guilty of racially abusing Ferdinand in court in July but the FA are charging him under their own rules, which are different.
The defender released a statement saying that decision meant his position had become "untenable". That means he thinks it's impossible for him to ever play for England again.
Hodgson added that Terry had "exceptional ability".
"I have enjoyed a good relationship with John during my time as England manager," he added.
Terry's been charged by the FA for using what they described as "abusive and/or insulting words and/or behaviour" towards Ferdinand.
He was cleared in court because it couldn't be proved "beyond reasonable doubt" that he had spoken to Ferdinand in an "insulting manner".
But the FA doesn't have to prove the case in as much detail.
Their rules say it only has to be proved "on the balance of probabilities."