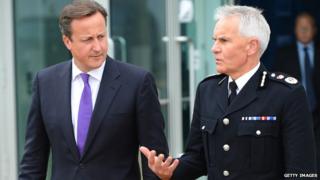 Getty Images
The Prime Minister has visited Manchester to pay tribute to the two policewomen who were killed there.
He went to see the relatives of PC Fiona Bone and PC Nicola Hughes who died in an attack on Tuesday.
Dale Cregan has been accused in court of their murder. He is also charged with murdering two other men in separate attacks earlier in 2012.
Another suspect has now been released without charge.
The Prime Minister said he had come to pay his respects and that the "whole country was shocked" by the officers' deaths.
Chief Constable Sir Peter Fahy also updated him on the murder investigation before he left.