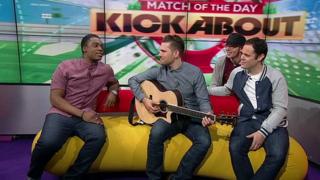 Special song for Tom Cleverley
Scouting for Girls have performed a unique song on MOTD Kickabout, dedicated to Manchester United star Tom Cleverley.
Appearing on CBBC's MOTD Kickabout on Saturday 22 September, the musical trio have offered their musical tribute.
They replaced the original lyrics of their song she's so lovely with the new set of words beginning he's Tom Cleverley.
And they cleverly (see what we did there) brought in plenty of other footballing references.
Watch the video to see more.
Watch MOTD Kickabout on CBBC at 7.40am and CBBC on BBC Two at 11.40am every Saturday.
See this week's full programme here.