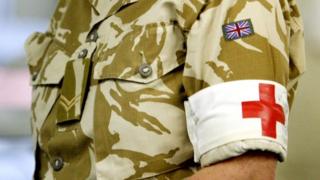 PA
A British soldier who didn't know she was pregnant has given birth to a baby boy at Camp Bastion in Afghanistan.
The woman, who worked with front-line troops, only found out she was pregnant when she had stomach pains.
She went to medics on camp and they told her it was because she was in labour and about to give birth.
A statement from the The Ministry of Defence(MOD), which employs the armed forces, said: "Mother and baby are both in a stable condition."
Normally, if a soldier is pregnant, the MOD wouldn't allow them to work in a dangerous environment like Afghanistan.
The MOD said: "It is not military policy to allow servicewomen to deploy on operations if they are pregnant. In this instance the MOD was unaware of her pregnancy."
A team of medics from an Oxford hospital is being flown out to Afghanistan to help the new mum and baby on their flight home to the UK.
It was discovered the baby was born five weeks premature.
This is the first time a front line British soldier has given birth.