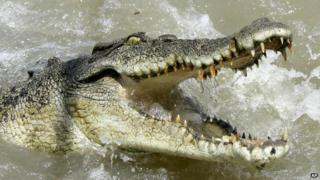 AP
An American granddad wrestled with an alligator after it dragged his pet dog in to the water.
Stephen Gustafson said he took a "flying leap" on to the creature's back to save his West Highland Terrier, named Bounce.
The 66-year-old had been gardening outside his home in Florida, America, when the alligator attacked his dog.
Mr Gustafson said the tussle lasted about 30 seconds before he was able to free Bounce.
"She let out a yelp, and I looked up and the gator had her in his mouth and was taking her far out," he told an American news channel.
"I saw the dog moving into the water and ran down the short hill in my backyard and just took a flying leap and landed flat on the back of the alligator."
"We were all under water, I grabbed his jaw and pinned it shut," he said.
Bounce was finally rescued and the alligator swam away, but was caught by wardens later on.