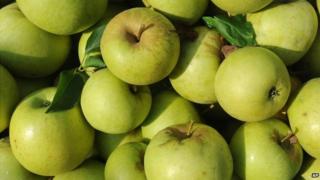 Wet weather affects apple harvest
This year Britain has experienced some really unpredictable weather with huge amounts of rain leading to the wettest April to June on record.
But it wasn't just the summer holidays that were hit hard by our unsteady climate - its been one of the toughest years for Britain's fruit and veg growers as well.
The changing conditions has put harvests behind schedule and some crops have been so badly affected that they even look a bit different.
We sent Nel off to a farm to find out what this means for your fruit and veg.