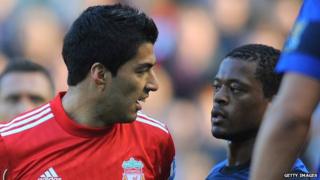 Getty Images
Liverpool and Manchester United are confident Luis Suarez and Patrice Evra will shake hands before Sunday's match at Anfield.
Officials from both clubs have been in talks this week with Sir Alex Ferguson stressing that United will support Liverpool in "every way" they can, after the release of a report into the Hillsborough disaster.
Shortly before kick-off captains Steven Gerrard and Nemanja Vidic will release 96 balloons in memory of those killed during the FA Cup semi-final in 1989.
There had been fears that Suarez and Evra's ongoing feud could ruin plans to mark the release of the report.
Last season Suarez was found guilty of racially abusing Evra and banned for eight games but then refused to shake hands on his comeback, sparking angry scenes at Old Trafford.
Sunday is Liverpool's first home game since the release of the Hillsborough report but any fears about Evra and Suarez runing the occassion appear to have disappeared.
Both clubs have stressed the importance of all players respecting the occasion.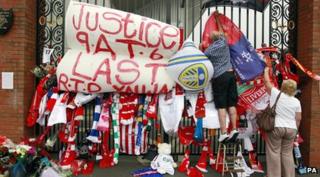 PA
Ferguson said: "It is going to be a very emotional day, we will support them in every way we can. We are supportive of Liverpool."
United criticised a section of their supporters who took part in anti-Liverpool taunts during Saturday's fixture against Wigan.