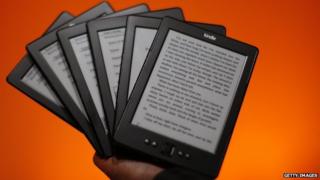 Getty Images
Amazon's latest music system has been launched in the UK.
The digital music storage system, which is already out in the US, is called the Cloud Player and can hold up to 250,000 songs.
Users can store, stream or download music from a smartphone, tablet or through the web.
It's aiming to compete with rival software iTunes Match by letting users to register up to ten devices, compared to iTunes where you can register five.
Songs bought from Amazon are added automatically and you can import tunes already in your music library.
The launch of the Cloud Player has come just before Amazon's new Kindle Fire tablet is released in Europe and the company will be hoping that the new software will enable them to compete with rivals like Apple.