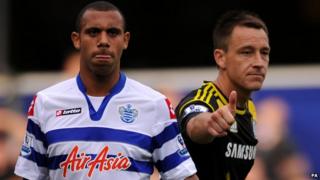 PA
Football clubs across the UK need to do more to stamp out racism in the sport according to a big report.
A group of MPs have been looking into how racist behaviour can be better dealt with in the game.
They say that more people need to report racist language on the pitch and that the FA needs to set a better example.
High profile cases like John Terry's have brought the issue into the spotlight over the past year.
Steve Rotheram MP, a member of the Culture, Media and Sport committee, argued that a lack of black and Asian people in management and boardroom positions at many English clubs was holding back the fight against racism.
He said: "Managers in the top tier of the Premier League and the Championship are almost all white, so there are some glass ceilings that need to be broken down."
The report also found evidence which suggests homophobia may now be a bigger problem in football than other forms of discrimination.
"Recent research found that 25% of fans think that football is homophobic while 10% think that football is racist," the report stated.
If you want to know more about what's being done to beat the problem then check out Ore's special investigation on racism in football.