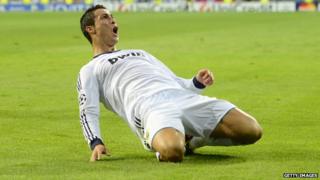 Getty Images
A last minute strike from Cristiano Ronaldo sank Manchester City in a thrilling Champions League clash at the Bernabeu.
The Spanish champions eventually won the game 3-2, despite being 2-1 down with just five minutes to go.
The win brought a spectacular sliding celebration from Real boss Jose Mourinho - who had questioned his side's focus in recent days.
But City will feel they should have come away with at least a point.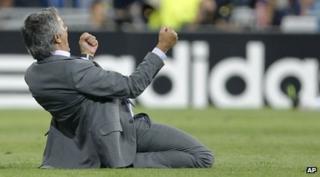 AP
Despite dominating most of the game, Madrid found themselves a goal down after City substitute Edin Dzeko slotted home.
Brazilian defender Marcelo equalised with a deflected shot, but City led again when Aleksandar Kolarov's free-kick flew straight in.
In a crazy last few minutes, Karim Benzema levelled before Ronaldo found some space on the edge of the box and blasted his shot past Joe Hart to win it.
If Manchester City had held on to win at the Bernabeu, it would have been the first time in Real Madrid's history that the nine-times European Cup champions had fallen to defeat in their first home match of the competition.