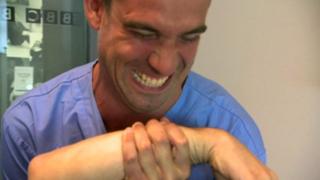 Learn three AMAZING body tricks
Check out three AMAZING body tricks with Dr Chris from new CBBC series Operation Ouch.
He stops Ricky from being able to lift his left foot off the ground - without touching him!
Then he reads Ricky's mind by telling which hand our presenter's hidden a penny in.
The doctor tops it off with a display of "super strength" - Ricky finds it impossible to lift Chris' hand from the top of his head!
But these tricks are nothing to do with magic - it's all down to science, as Dr Chris explains all in our clip.
Operation Ouch is a new series on everything you've always wanted to know about your body, how it works and how it fixes itself.
It's fronted by identical twin doctors Chris and Xand van Tulleken.