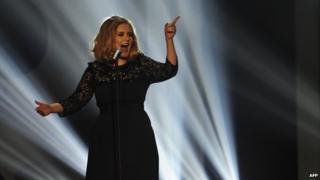 AFP
Award winning singer Adele has reportedly signed up to sing the theme tune for the new James Bond film.
Although nothing has been officially confirmed, lots of websites are saying that the British star will be the latest act to be associated with the 007 movies.
It's thought that the song will be called Skyfall, the same name as the film. Normally, the company that makes the films releases a statement about who will be singing the theme song, but that hasn't happened yet.
When the last Bond film was released in 2008, it was rumoured Amy Winehouse was working on the theme song.
But it was actually Alicia Keys and Jack White who sang the theme song called Another Way to Die.
Skyfall is due to be released in cinemas on 26 October.