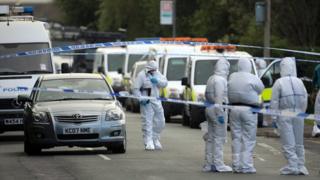 Christopher Furlong
Two female police officers have been killed in an incident in Greater Manchester.
PC Nicola Hughes, who was 23, and PC Fiona Bone, 32, suffered fatal injuries in the attack in Mottram, Tameside.
A witness at the scene described hearing 13 gunshots and an explosion.
It's incredibly rare for officers to be killed like this in the UK. A 29-year-old man has been arrested in connection with the deaths and two others.
The scene was cordoned off and there is a heavy police presence in the area, including a bomb disposal team. A police helicopter is also on patrol overhead.
Greater Manchester Police Chief Constable Sir Peter Fahy said it was one of the force's "darkest days".
Prime Minister David Cameron said the incident was "a shocking reminder of the debt we owe to those who put themselves in danger to keep us safe and secure."
It is out of the ordinary for something like this to happen and if you feel upset about this news, or any other stories you read, then you should speak to your mum, dad or another adult you trust.
You can also go to our special Newsround page "It's OK to be upset by the news" for more tips and advice.