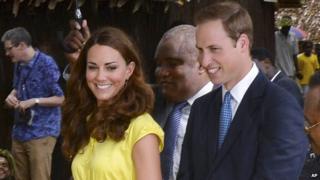 AP
Private holiday photos of the Duchess of Cambridge that were printed by a magazine in France have been banned from being published again.
A French court's ruled that gossip mag Closer can't reuse the images or sell them on.
William and Kate's lawyers took action after Closer ran pics of Kate sunbathing without her bikini top on.
The publishers have to hand over original copies of the photos to the couple within 24 hours.
They'll be fined £8,000 if they break the ban.
French law officials are still deciding whether the royals can press criminal charges against the magazine or the photographer.
The pictures have already been published in a magazine in Italy and a newspaper in Ireland.