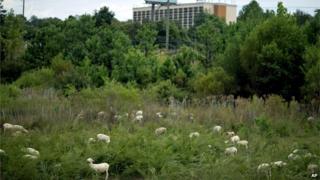 AP
Chicago O'Hare airport wants to hire goats to trim the grass.
Bosses want to bring in 30 of the animals to eat grass and weeds in an area that's hard to reach with a lawn mower.
The Chicago Department of Aviation, who have put out an ad for the goats, say they'll be more environmentally friendly than using a mower and other chemicals to keep the grass in check.
They're also planning to hire a goat herder to look after them.
The patch of grass where they will be grazing is protected by a security fence so they won't be in any danger of getting onto the runway.
Atlanta airport in the US has also started using sheep to tackle overgrowing weeds and San Francisco airport has been using goats for years.