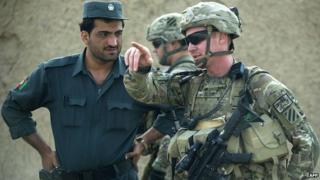 AFP
British troops serving in Afghanistan will no longer go on patrol with Afghan forces because officers are afraid they'll be attacked.
There's been a big rise in afghan soldiers and police officers attacking troops which are part of the international organisation NATO.
Four members of the US army and two Brits were killed at the weekend by people dressed as Afghan soldiers.
Now Nato says it will only work with Afghan troops on big operations and will give serious thought to when they go out on more routine joint patrols.
This year alone, 51 Nato troops have been targeted and killed by Afghan forces or people dressed in military uniform.
Taking this step is a big decision as the aim of Nato's mission in Afghanistan is to work with local people and train them for when western forces leave the country.
The UK currently has 9,500 troops in Afghanistan but plans to leave the country by the end of 2014.