Everton saw two goals disallowed, one of which was seen crossing the goal-line, as they drew 2-2 with Newcastle.
In an exciting match Victor Anichebe headed the ball across the line but the goal wasn't given.
Earlier a goal from Fellaini was also disallowed for offside.
Everton's two goals came from Baines and Anichebe, while Ba scored twice for Newcastle. Their boss David Moyes said he told the referee: "You have missed two goals".
But he added: "What can I do about it? We played very well and should have won the game deservedly but didn't."
Everton dominated the first half but became sloppy and allowed Newcastle to fight back in the second half, thanks to subsitute Demba Ba.
With 12 minutes to go Anichebe's header dropped behind the line after being parried by Newcastle keeper Steve Harper, only for referee Mike Jones to wave play on after looking to his assistant.
Before kick-off, in a show of support to fellow Merseyside club Liverpool, fans and players remembered the victims of the Hillsborough tragedy.
Mascots wore shirts with the number 96 on the back - the number of people who died.
Signs appeared on the big screens to urge everyone to show support.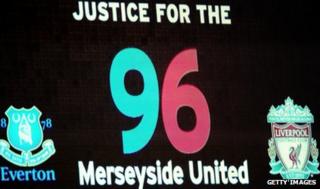 Getty Images