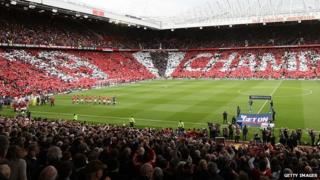 Getty Images
A former Manchester United player has called for fans who shout tasteless taunts during football matches to be banned for life.
Ex-Red Devil's striker Joe Jordan's comments come after some Man U fans chanted anti-Liverpool songs during Saturday's match against Wigan.
Supporters reportedly sang songs relating to the new report into the cause of the Hillsborough disaster, where 96 Liverpool fans were killed in 1989.
Jordan said: "What they come out with has nothing to do with a football match."
He added: "I can't quite get my head around why people come to football matches with that first and foremost on their minds."
Manchester United released a statement after the game with Wigan saying they "deplored" the chants made by a minority of their fans.
United take on Liverpool at Anfield on Sunday and there's big worries that both sets of fans could sing unsavoury songs to each other.
In the past Liverpool fans have been among those supporters criticised for singing chants about the Munich air disaster, where eight Man U players died in 1958.
United manager Sir Alex Ferguson has already called for the fans to end their terrace rivalry.
He said it was time for both sets of supporters to forget about taunting each other and remind people why their clubs are so great.