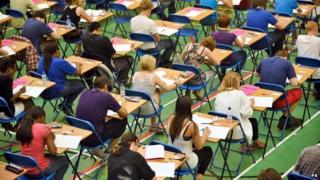 PA
The GCSE exam in England is going to be replaced by a qualification called the English Baccalaureate Certificate.
All children at secondary school in England currently have to sit GCSE exams but the man in charge of schools, Michael Gove, has announced loads of changes he wants to make to the exam system.
What changes will be made?
The name GCSE will change to English Baccalaureate Certificate.

In the new guidelines, children will sit one final three hour exam at the end of each course, rather than being marked for courseworks or modules throughout the two years.
There'll be just one exam board for each subject, rather than schools having several boards to choose from.
The top A and A* marks could be renamed as Grade 1 qualifications.

The new exams can be sat by anyone between the ages of 16-18 as the school leaving age is likely to rise to 18 to help struggling pupils catch up.
Who will it affect?
Pupils who have started secondary school this year will be the first to take the revised exams in 2017.
Children in Scotland, Wales and Northern Ireland are not affected by the changes because they have their own education systems.
Are the changes a good or bad thing?
People have different views of the changes. The Government who are making the changes say it will mean exams are fairer as all children will be taught the same thing.
The Labour government has attacked the plans as "totally out of date."
What do you think?
We want to know if you're worried about changes to exams.
Do you think that the new GCSE exams will make it tougher for you to get good grades? Or maybe you think that tests should be changed to make things fairer?
Whatever you think, we want to know.
This chat this now closed, but you can read some of the comments below.
Your comments:
"If you're bad at exams you've still got your coursework to lean back on a bit, but if you have a bad day in the exam with this new system, that's it. Some people literally can't sit a three-hour exam and I think this change is stupid."
Sarah, Suffolk, England
"I do not like the sound of these changes. I will be doing the exams in a few years and I do not like the idea of sitting a three-hour exam!"
Imaan, London, England
"If you don't get good grades you can't get on a course or get a good job. With the government changing things they are making it harder to get good grades."
Phoebe, Burnley, England
"I think it is unfair because if you are feeling ill on the day of your three-hour exam then it is unfair. If you do coursework you can get an overall fair grade."
Ella, Leeds, England
"I don't think it is fair that people who get really nervous should have to sit a three-hour exam!"
Elena, Singapore
"I feel that just because students are getting higher marks they should not have to be tested even more...also I am really worried because my year is the first to sit these exams!"
Ooda, London, England
"I think Micheal Gove has made a sensible decision. It is fair because everyone would take the same exam."
Sehar, Slough , England
"So this year's Yr 7s are the 'test subjects' for this awful idea? I don't think this is fair at all and the first time it is run is bound to go wrong."
Ruby, Cumbria, England
"This is way better - if you get a top grade you actually deserve it and it means your parents can't do your coursework for you so you can't cheat!"
Ellie, Hertfordshire, England
"Some people tend to do better when they do coursework. It is not fair on those who can not sit a three hour paper."
Memoonah, Birmingham, England
"I think the changes are a good thing - they give a top grade more value and worth and will make getting a top grade more satisfying and people will have to work harder to get them."
Catherine, Bath, England
"I think it is unfair that children should be judged on a three hour test, some pupils under pressure don't do as well as others even though they are of the same ability."
Cate, London, England
"I think that there are too many children who can't do as well in exams; coursework shows off your working-long-term ability. The biggest worry is for children with learning difficulties (such as dyslexia) who will suffer the most."
Bronwyn, Newcastle, England
"I think this is not a great idea because it would put more pressure on children."
Masud, Kent, England
"As a class, we think that they probably have more stress on their hands, it may also mean that fewer people may go to good universities and get a good job."
Class 8 Sherwin, Leicester, England
"I think the new system is not as good idea because if you have one bad day it could affect your overall grade."
Tori , Bali, Indonesia