British explorer, Sir Ranulph Fiennes, is to lead a team of explorers to the coldest place on earth.
He's attempting a record breaking six month trek across the most dangerous part of Antarctica.
The group are trying to be the first to cross the frozen landscape on foot during the winter.
The expedition is being called the Coldest Journey on Earth because the team will have to face freezing temperatures of minus 90C.
The 68-year-old explorer said: "We do it because we like to break world records."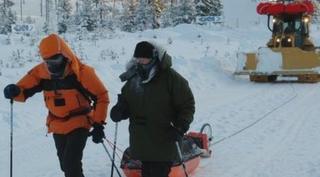 Other
It's the latest record breaking expedition for Fiennes, who has already gone from the north pole to the south pole, climbed Mount Everest, travelled along the Nile in a hovercraft and run seven marathons on seven continents in seven days.
The explorer said that he looked at doing the trek 25 years ago but thought it looked impossible.
So why now? Well Fiennes said "We heard a rumour that Norwegian explorers were contemplating this. We realised we were going to have to have a go."
The team will be carrying out important scientific research in the area, as well as raising money for charity.
They'll be setting off on their epic journey at the end of March 2013, just as winter sets in.