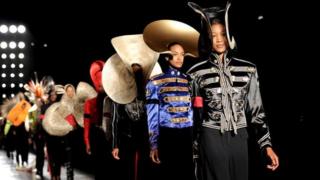 How to become a fashion designer
As London fashion week kicks off in style, Nel has been to meet a young designer to find out just what it takes to make it big in the world of fashion.
Sixty two catwalk shows take place over five days the UK's capital and every year a handful of young designers are chosen to take part in the show.
One of those lucky few is Charli Lynn, a fashion student from Kingston University, Surrey.
Newsround's very own fashionista, Nel, has been grilling Charli for top tips on how to become a budding designer...
More entertainment stories