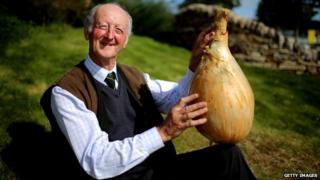 Getty Images
A giant onion has smashed a veggie world record by weighing in at 18lb 1oz.
The monster bulb was grown by gardening expert Peter Glazebrook and broke the previous record by more than two ounces.
Peter, who's from Newark, also grew the world's largest beetroot, the heaviest potato, and the longest parsnip.
The 68-year-old unveiled his prize winning efforts at the Harrogate Flower Show.
Talking about his amazing onion he said: 'I should think it could feed a thousand people. It would certainly do for a lot of hotdogs.'