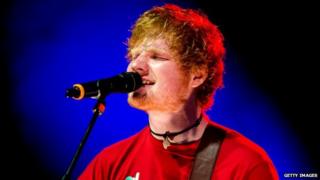 Getty Images
Singer Ed Sheeran's '+' was illegally downloaded more than any other music album in the first half of 2012.
His 2011 album was closely followed by tracks from Rizzle Kicks and Rihanna according to a new study into music piracy.
It was illegally downloaded an average of 55,512 times each month.
The report from Musicmetric says UK users illegally shared more than 40 million albums and singles between January and June 2012.
Researchers also found that Manchester is the music piracy capital of the UK, with more illegal downloads per person than in any other city.
Nottingham and Southampton were some of the other piracy hotspots.
The British Phonographic Industry (BPI), who speak for record companies, say piracy is stopping money being invested in new music.
"There are more illegal downloads in the UK still than there are legal purchases", the BPI's chief executive Geoff Taylor told the BBC.
"A lot of people are getting very rich from stealing other people's things. That's wrong, and we think that musicians deserve to be paid for what they do, just like everyone else."
But Ed Sheeran said he doesn't really care about people illegally downloading his music.
He said: "There's a decent balance - you can live off your sales and you can allow people to illegally download it and come to your gigs. My gig tickets are £18 and my album is £8, so it's all relative."
We asked you what you thought about illegal downloads, loads of you got in touch!
Your comments
"What's the point downloading illegally when you can quickly buy off iTunes."
Dan, Huddersfield, England
"I think that if you get rid of these free sites and then put the prices down then it will stop."
Libby, Wales
"Albums are much more expensive now, if you'd lower the prices, people may have more respect for the artist and start paying for their songs. It's faster and cheaper to illegally download, thats why people do it."
Maya, Nelson, Wales
"I think there is no excuse for illegally downloading music, music is a pleasure and you need to pay to enjoy it, and its fair that artists get paid for their hardwork."
Sarah, Burnham, England
"It should be stopped because other people have to pay to get an album."
Rachel, Barnsley, England
"The music industry is just out to make as much money as possible."
Amy, Stockport, England
"Lots of people are having problems with money and can't afford to buy them but it is still wrong."
Estelle, London, England
"I think that it is fair to illegally download music as the artists make enough money as it is and some poor people might not be able to afford the music!"
Harriet, Devon, England
"I think you shouldn't download music illegally because it might harm your computer and it's illegal and you never know who might find out. On the other hand, maybe music shouldn't be so expensive so people could afford it and not download illegally."
Sophie, Derby, England
"Music and films are expensive, that's how piracy started. Start putting the prices down then piracy will go down."
Sasha, Fife, Scotland
"The Digital Age has taken over the world and the music industry is no exception, people would rather listen to bad illegal copies of albums rather than go to a record shop and buy the real thing. It is really sad because there is no nicer way to relax than listening to a record."
James, Lancashire, England
"I think people should not illegally download because it is stealing and the music industry is losing a lot of money from it."
Jamie, Scotland
"People might not have the money to get the album so they will download it illegally."
Connor, Cardiff, Wales
"It's not fair if others pay for music when people are illegally downloading it. These people should be stopped as it's not fair on the artists not making money for their amazing songs."
Sophie, Scotland
"I think people who do it should be punished with ten years in jail."
Olivia, Scotland
"If music was cheaper more people would buy it."
Adi, Leicester, England
"If people were still making mixtapes for each other using cassettes and a radio nobody would say anything. It's only because it's on the internet."
Emma, Birmingham, England