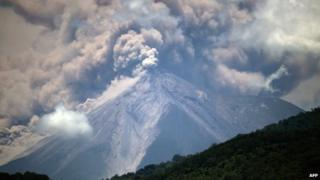 AFP
Over ten thousand people have been evacuated after a massive volcanic eruption in Guatemala.
Fuego, one of the world's most active volcanoes, started spewing ash, rocks and lava on Thursday.
People living nearby said that the roaring of the volcano was so loud that it was shaking their windows.
Authorities hope that Fuego, known as the volcano of fire, will calm down and that residents will be able to return home by Saturday.
Buses covered in ash full of villagers were seen escaping to the capital, Guatemala City, 31 miles away.
All air travel in the area was cancelled after an ash cloud started to spread for miles around.
By Friday morning Lava had already been blasted over four miles away from Fuego's crater.
It's the largest eruption in the country since 1999.