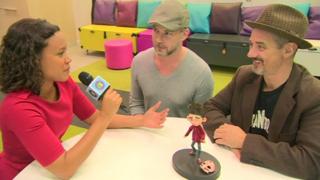 How was new film ParaNorman made?
New film ParaNorman hits cinemas on 14 September and the people behind the movie have been telling Newsround all about it.
ParaNorman is about a young boy who can see and speak to dead people and has to save his town from zombies.
Just like the films The Pirates, Fantastic Mr Fox and Wallace & Gromit, ParaNorman was made using a technique called stop-motion animation.
The directors of ParaNorman, Sam Fell and Chris Butler, explained what it is to Leah.