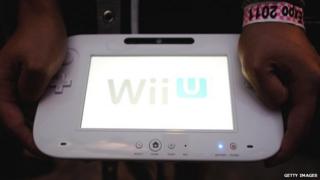 Getty Images
Nintendo has revealed it will release the new Wii U in the UK on 30 November.
There will be two versions available; a basic edition that'll cost around £210 and a premium version costing about £250.
The main difference between the two will be memory - with the premium version having more.
It's thought extra controllers will cost just over £100 each.
What is the Nintendo Wii U?
The big difference between the Wii and the Wii U is the controller.
Even though you play on a big screen like with an XBox or a PlayStation, the Wii U's controller has its own touchscreen in the middle.
The touchscreen will be used to carry out in-game tasks while the main action continues on the television.
You can still control the games by moving the new controller, but it also has a joystick and trigger buttons.
It's also got a camera that faces whoever is playing the game.