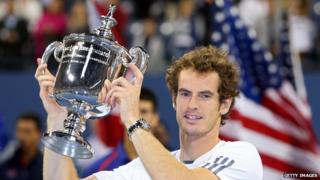 Getty Images
Andy Murray says he is aiming to become tennis world number one after his historic win at the US Open.
He has just come back to the UK after winning his first grand slam title against Novak Djokovic in New York.
Now he has his sights set on the top spot in world tennis but admits it will be hard.
He is the first British man to win a tennis grand slam final for more than seventy years.
He said " I want to try win as much as possible and try and get to number one if possible but it takes a lot of winning, a lot of hard work, and you need to be mentally strong for the whole year."
"I've been a bit inconsistent this year, outside the grand slam, so I need to improve on that."