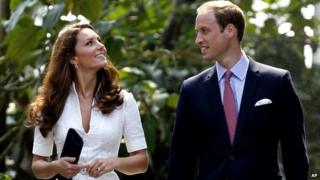 AP
Prince William has revealed that he and his wife, Kate, want to have two kids, whilst chatting to schoolchildren on their trip to Singapore.
The Royal couple were at the Gardens by the Bay attraction on the second day of their Jubilee tour when William was asked how many children he would like.
He responded saying he was "thinking about having two".
The prince has mentioned starting a family before, but has never mentioned how many children he'd like.
'I think invisibility'
The Duke and Duchess of Cambridge were then asked what superpower they would have if they were a superhero.
They both said they would like their superpower to be invisibility.
Several people in the big crowd fainted in the hot weather as they waited to see the royals.
Later they visited Queenstown housing estate, named after The Queen, then a school and centre for children with special needs.
Tomorrow they will fly to Kuala Lumpar in Malaysia for the second leg of their tour, celebrating the Queen's Diamond Jubiliee.