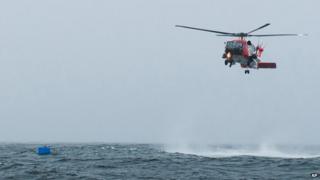 AP
An Alaskan teenager has been rescued after spending 26 hours floating in a plastic bin in the Pacific ocean.
Fisherman, Ryan Harris, spent Friday night in a tiny container before he was rescued by the US coastguard.
The 19-year-old's shipmate, Mac, managed to find a survival suit and drift to shore after their boat overturned off the coast of Alaska.
Safely back on dry land, Harris said: "I never thought I was going to die, but I was worried about Mac."
While floating in the old fish bin Harris said he kept his spirits up by singing Rudolf the Red-Nosed Reindeer and Row, Row, Row Your Boat!