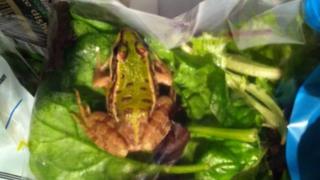 Christina Carrington
A live frog has been found in a bag of salad leaves bought by a woman at a Hampshire supermarket.
Christina Carrington, 50, said she ate some of the salad before realising the frog was in the bag!
The palm-sized amphibian, thought to be a pool frog, spent Sunday night in Mrs Carrington's fridge undiscovered.
Her daughter found the green and brown frog in the Waitrose salad. Waitrose have apologised and say they're investigating.
'Disgusted and angry'
Mrs Carrington was annoyed and said she had not been able to eat salad since.
"You pay more for these prepared salads and trust they've been prepared properly," she said.
Waitrose said: "We are very sorry for the distress caused.
"We're investigating with our suppliers how this happened and taking steps to further minimise the chances of this happening again."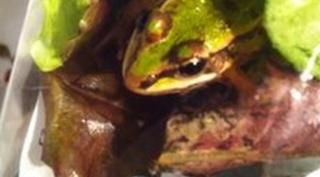 Christina Carrington
'He seemed quite happy'
Once the frog was discovered Mrs Carrington said she was "not sure what to do with it", so kept the frog in her fridge for another night until it was collected by a member of staff from Waitrose.
"We quite liked him in the end, it was just when he hopped around in the bag - that freaked us out a bit."
Dr Ian Stephen, from The Zoological Society of London, said: "It's almost impossible to accurately identify this species as it's a juvenile, but it is a type of water frog."