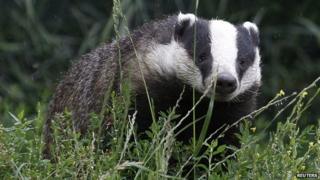 Reuters
A charity has lost its court battle to stop plans to kill thousands of badgers in England.
The Badger Trust had tried to stop the cull. A trial cull will now go ahead in parts of Gloucestershire and Somerset.
They believe that killing the animals wouldn't stop the spread of bovine tuberculosis (TB), a deadly disease that can pass to cows from badgers.
But a judge has ruled that the government is right to go ahead with the cull.
The government thinks that bovine TB is currently costing farmers in the UK around £100m per year, and action is urgently needed.
But scientific studies have shown that culling badgers may not prevent the spread of the disease; and could even make it worse in some areas.