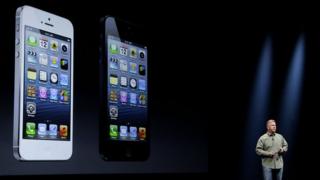 AP
The iPhone 5, Apple's latest smartphone, has been unveiled. It's thinner, features a bigger screen and is ready for 4G access.
The phone's new size means it can display an extra row of app icons on the home screen, but the four inch (10.2cm) screen is still smaller than rival smartphones from Samsung, Nokia, Motorola and HTC.
Apple say it is 18% thinner and 20% lighter than the iPhone 4S.
The handset also features a new chip called the A6. The company say this makes it twice as fast as the iPhone 4S.
There's also an improved version of Siri, the voice recognition program for the iPhone 4S and iPad.
You can now ask Siri to find shops in the UK, and tell you distances between towns. It also has information about films and sports.
The smartphone market is getting pretty crowded, with Samsung, Nokia and Apple all competing to be top of the gadgets.
The tough competition has put more pressure on the iPhone 5 to wow customers and to bring in more money for the tech giant.
And whether these improvements to the iPhone are enough to satisfy customers looking for an exciting new product remains to be seen.
The iPhone 5 is planned to go on sale from 21 September.