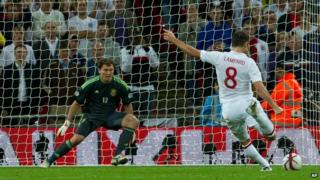 AP
A late penalty from Frank Lampard saved England from losing against Ukraine in their second World Cup qualifying match.
Roy Hodgson's men started on a high after their five goal spectacular against Moldova on Friday.
But Ukraine's Yevgeni Konoplianka's goal gave the side the lead all the way until the 87th minute, when Lampard equalised from the penalty spot.
England are now second in their group.
It wasn't a great night for any of the home nation sides.
Scotland could only manage a 1-1 draw at home against Macedonia.
Wales lost 6-1 away to Serbia, their biggest defeat since 1996.
Northern Ireland also came away from their game against Luxembourg with a 1-1 draw after Ryan McGivern scored a late own goal.