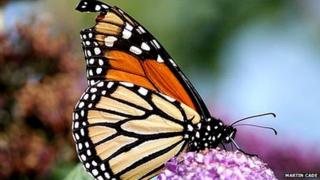 Martin Cade
A rare monarch butterfly swept 3,500 miles across the Atlantic ocean by Hurricane Isaac has landed in Dorset.
It was blown off course as it tried to migrate from North America to Mexico.
More than a thousand wildlife fans headed to a park in Portland after the butterfly was spotted feeding on a bush there.
The Monarch has striking orange, black and white markings and a wing span of about 10cm, so there wasn't much chance of it hiding.
Martin Cade, from Portland Bird Observatory, said: "It looks very tropical and exotic so it sticks out like a sore thumb. We had hundreds of people with cameras around the bush."
He said the butterfly, which has lost part of its left wing, would not be able to fly back to North America but would survive in the UK.
Another monarch butterfly was recently spotted on the Isle of Wight.