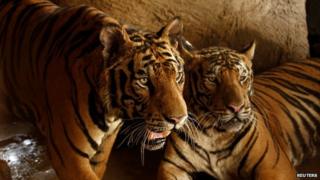 Reuters
Thai police are investigating after six tigers were found on the rooftop of a building in a town near Bangkok.
The six tigers - five males and one female - were being kept in three cages on the roof of an apartment block.
A 28-year-old man who was employed to look after the tigers has been arrested for illegal possession of wild animals.
Wildlife officials are trying to find out whether the animals, between nine months and nine years old, were poached from the wild or born in captivity.
Police are now looking for the owner of the apartment, who has fled.
A police chief who's investigating the case said: "It's illegal. There's no law that allows breeding tigers. This not a zoo."