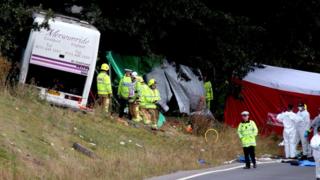 PA
A coach carrying people from a festival on the Isle of Wight has crashed into a tree near in Surrey. Three people were killed.
The coach was from Aintree in Merseyside and was returning from the Bestival music weekend.
A fourth person was taken by helicopter to Southampton General Hospital with life-changing injuries and eight other people are seriously injured.
No other vehicles are thought to have been involved in the crash.
Police are now trying to work out why the incident happened.
Inspector Richard Mallett of Surrey police said: "I understand the road was dry. We cannot see any reason that the road conditions would have had any effect on what occurred."