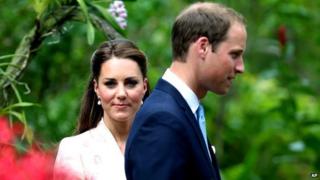 AP
The Duke and Duchess of Cambridge are in Singapore at the start of a nine-day tour of South East Asia and the South Pacific, to celebrate the Queen's Diamond Jubilee.
At the botanic gardens they saw a species of orchid named after William's mother, Diana Princess of Wales.
The princess died in a car crash in August 1997, weeks before she was due to visit the gardens to see the orchid.
The prince said he thought the flower was "beautiful."
The royal couple also saw a pink orchid - Vanda William Catherine - named after themselves.
Next up is a reception and dinner at the Presidential Palace and later William will make a speech on behalf of the Queen.
Antony Phillipson, British high commissioner to Singapore, said there had been "mounting excitement" about their visit.
He said: "This is a couple who are global superstars."
Prince William and Catherine will also visit Malaysia, the Solomon Islands and Tuvalu.
The royals are expected to wear traditional dress when in the Solomon Islands and Tuvalu, get involved in sporting activities and take a trip by canoe.
The duchess will also make her first speech in a foreign country when she visits a hospice in Malaysia later this week.