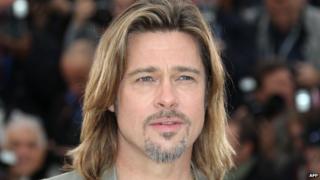 AFP
He might be one of the highest paid actors in showbiz but Brad Pitt reckons that movie stars aren't getting as much money as they used to.
In an interview with BBC Radio 1, Pitt commented that the days of big stars demanding £6 million a movie are over.
The star, who's said to have earned £16 million last year, said: "That deal's not flying these days.
"You take the roles for the roles and you've just got to balance economics like everyone does."
The actor also said the recession has affected the way Hollywood studios work.
Pitt said: "A lot of the studios have been challenged because of the economic downturn as well so they've been betting on bigger, more tent pole kinds of things."
'Tent pole' films are those with the biggest budgets, which the studios rely on to make lots of money in the box office - so like a tent pole, they prop up the rest of the film studio's movies.
But he says it means that big studios are making fewer films nowadays, which is leaving space for new film makers to get started.