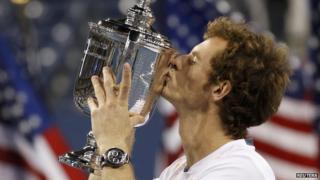 Reuters
Andy Murray has beaten Novak Djokovic to win the US Open in New York, in a spectacular five-set thriller.
Murray is now the first British man to win a Grand Slam competition in 76 years.
The 25-year-old took almost five hours to beat the Serbian player by three sets to two.
After the match Murray said: "It means the world to me. It's what I've been working towards for the last ten years of my life."
Murray has become the first man to win both the Olympic gold medal and US Open in the same year.
Novak Djokovic, number two in the world, was the reigning champion and didn't make it easy for the Scotsman.
The windy weather made it tough for both players but Murray coped better with the conditions over the first two sets.
Djokovic said: "I had a great opponent today. He deserved to win this Grand Slam more than anybody. I would like to congratulate him."