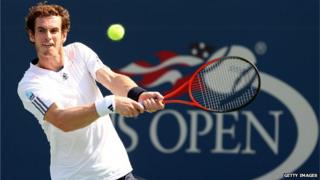 Getty Images
Andy Murray has said he's feeling confident ahead of his US Open Grand Slam final.
The 25-year-old will have to beat Novak Djokovic, the reigning US Open champion, in Monday night's match.
After beating Djokovic in straight sets during the Olympics, Murray is feeling good about the match.
The third seed said: "Winning against him [Djokovic] in the Olympic semi-final was a big win for me."
He continued: "It means a lot to me. You saw at Wimbledon how much that meant to me. It's obviously not easy to lose another slam final, so I hope this one is a different story."
Djokovic has won 8 out of the 14 matches they've played against each other.
Murray has admitted he hasn't been on top form so far in the tournament but said he would "give everything" to beat the Serbian in the final.
The last time a Brit won a Grand Slam was Fred Perry at Wimbledon, way back in 1936.
Murray's been in four Grand Slam finals so far but hasn't yet managed to win one.