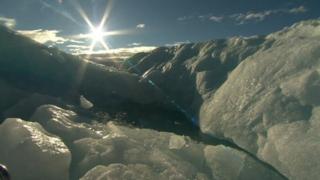 Record Arctic ice melt 'a trend'
This summer's record-breaking ice melt in the Arctic is part of a worrying trend, scientists are warning.
Researchers say the sea ice is getting thinner and melting at "amazing" speed.
Last month, sea ice levels dropped to their lowest since satellites began watching the region more than 30 years ago.
Dr Kim Holmen from the Norwegian Polar Institute said: "It is a greater change than we could even imagine 20 years ago, even 10 years ago."
See the full story at: