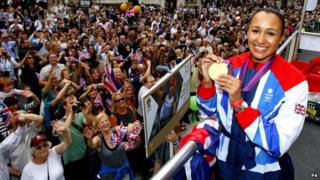 PA
Jessica Ennis, Mo Farah and Ellie Simmonds were among 800 sporting stars who rode through London's streets on Monday, celebrating their success.
Britain's Olympic and Paralympic athletes took part in a special victory parade, cheered on by an estimated one million people.
Crowds lined the streets to celebrate as the parade made its way from Guildhall in the heart of the city, all the way to Buckingham Palace.
There was a flypast by the Red Arrows.
At the palace pop stars Amy Macdonald and the Pet Shop Boys gave a concert as the athletes cheered behind them on the steps of the Queen Victoria memorial.
Some of the 14,000 Gamesmaker volunteers who did the famous Mobot dance in honour of gold medal winning runner, Mo Farah.
He took gold in both the 5,000 and 10,000 metres, saying he'd had the "perfect" Olympics.
Mo said: "I could never have imagined it would be like that. As an athlete you dream of becoming an Olympic champion, but not in front of a home crowd, and also doing it twice."
"We are so grateful"
Britain's Olympic gold medal winning heptathlete, Jessica Ennis, praised her Olympic and Paralympic colleagues, saying she is "proud to be British".
Tom Daley, who bagged a diving bronze, said: "The parade is so exciting I have got the Olympic buzz back. I have had a little time off so seeing the crowds again is amazing."
Royal rider Zara Phillips, on the equestrian float, said: "This is unbelievable. To think everyone has come out for all of us is just amazing. We are so grateful to them."