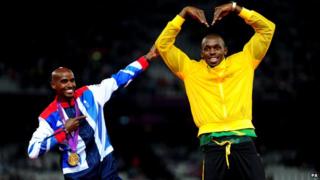 PA
It's been a brilliant summer of sport across the UK.
From Wimbledon, to the Olympics and the Paralympics, loads of us have been glued to our TV screens.
We want to know what's been your highlight from the Great British summer of sport?
Maybe it was watching Usain Bolt speed his way to yet another gold? Or perhaps you reckon the Opening Ceremonies were the best part?
Whatever you think, we'd like to know!
If you send us a comment, it may be published on the Newsround website and some comments may be used in our TV bulletins. We'll use your first name and your home town to show that it's your comment; your personal details won't be used for anything else.
Your comments
"My highlight of the Olympic and Paralympics was Ellie Simmonds winning two gold medals."
Isaac, Pembrokeshire, Wales
"Obviously the Olympics and Paralympics and getting to watch and be part of a once in a lifetime opportunity to be part of a home games."
Josh, Stockport, Wales
"The games have inspired me and they were amazing. The Paralympics showed how amazing the super humans are! WELL DONE TEAM GB."
Molly, London, England
"I loved the cycling. It's just amazing to see how easily they can break those world records. Well done Team GB."
Sam, London, England
"The most sensational moment was when Ellie Simmonds won her race - it was fabulous and inspiring."
Robbie, Leicester, England
"I think the highlight was Johnnie Peacock winning the 100m, with the whole crowd chanting his name! Also David Weir winning his first medal and Jess Ennis winning the heptathlon. There is too much to choose from!"
Kate, Essex, England
"The best part of the summer of sport was when Mr Bean played in the opening ceremony! It was so amusing."
Charlotte, Nottingham, England
"I have three! 1. Ellie Simmonds smashing the world record. 2. Jonnie Peacock beating Oscar Pistorius. 3. Tom Daley getting a Bronze medal in the 10m platform."
Eleanor, Gloucestershire, England
"My summer highlight has just got to be the 100 metre sprint - I can still feel the tension."
Luca, London, England
"I enjoyed the opening ceremony of the Olympics because it was really inspirational!"
Megan, Hampshire, England
"My favourite moment from this summer of sport has to be Nicola Adams or Jade Jones winning gold. The way they both fought was incredible! They both made me very proud to be British."
Alexa, Berkshire, England