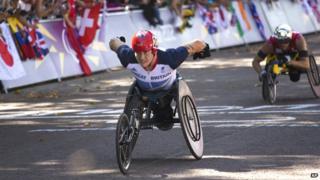 AP
Racing through the streets of London, David Weir won his fourth gold medal and helped to celebrate the final race of the Games.
Weir was a favourite to win the T54 Marathon, a 26 mile-route around sunny Central London lined by massive crowds.
He said the support from the crowds on the final day of the Games had been "amazing the whole way through".
Team-mate Shelly Woods took silver in the women's marathon.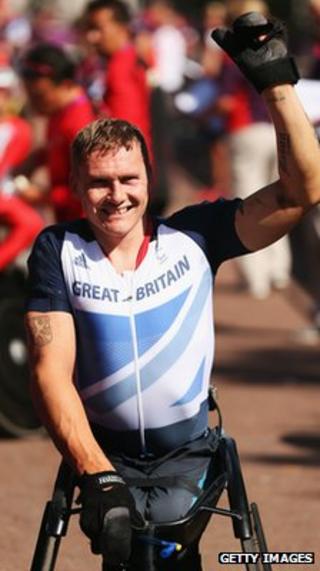 Getty Images
London's Games have been descriped as the most successful event in Paralympic history, and ParalympicsGB have held onto third place in the medal table with 34 golds.
Organising committee chairman Lord Coe said: "It has been fantastic. We wanted to raise the bar at the Olympics and I am as proud as everyone."
On Saturday evening Oscar Pistorius, the now-famous "Blade Runner" won gold in the T44 400m.
It was the final track event before organisers started getting the stadium ready for the closing ceremony.
Ellie Simmonds, who'd hoped to get a third swimming gold in the 100m freestyle, settled for silver after US swimmer Victoria Arlen beat her and set a brand new world record.