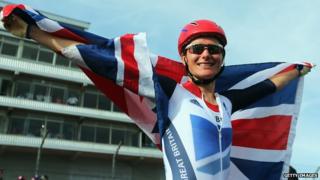 Getty Images
Sarah Storey has scooped up a record fourth gold medal of the London games.
The cyclist won the women's C4-5 individual road race at Brands Hatch race course.
After the race she said, "To have won 11 and make it a clean sweep for this week, is just a dream come true."
She's now got 11 Paralympic golds in her collection, equalling the British record held by Baroness Tanni Grey-Thompson and swimmer David Roberts.
She's now got 22 medals altogether, making her one of the most successful British Paralympians of modern times.
The 34-year-old made her first appearance at the Barcelona games in 1992 when she was just 14-year-old.
Sarah started off as a swimmer but had to change to cycling after an ear infection meant she could no longer train in the pool.
Her husband Barney is also a cyclist, he's won three golds in the Paralympics as the pilot for blind athletes in the tandem.