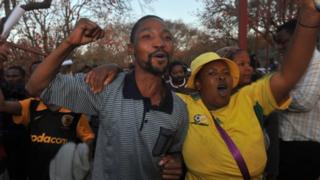 AFP
The remaining South African miners, charged with murdering co-workers that were shot dead by police, have been released following a national outcry.
Last month police killed 34 miners in Marikana during protests over pay.
Under an old law the miners themselves were blamed for the deaths and arrested, causing outrage around the world.
The law used dates back to the apartheid period, when blacks and whites were kept completely separate.
The old law said the miners were to blame because the police would not have had to fire shots if the miners had not approached them with knives and sticks.
The initial murder charge led to mass protests and even South Africa's leader, and other top politicians asked for the laws to be reviewed.
The murder charges against the miners were dropped on Sunday.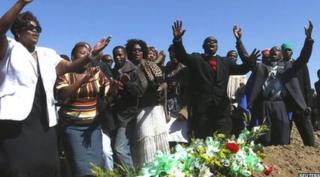 Reuters
The first group of 162 detainees were released on Monday and are set to return to the Marikana mine.
But some miners are still refusing to sign a "peace accord" with the government and mine owner Lonmin, saying that they won't return to work until they are paid more.
The miners, who say they are currently earning around £300 a month, want their salary increased to 12,500 rand, about £900.